Upcoming Events:
Attention Youth:
Are you in need of Service Hours
before you graduate high school? We will keep track of your hours and present you with a signed certificate with the church seal.
Upcoming service hour oppurtunities include the
property and grounds help, production / camera work on our youtube live stream, and any special job we may have.
Please pay attention to upcoming Bulletins, our website or our Facebook page for more information.
60 Minute Missions Escape Room
On Friday 02/21/2020, t
he youth enjoyed a pizza and game night at the church. We then ventured to 60 Minute Missions Escape Room, in Greensburg. A great evening of adventure and Fellowship. All youth are invited to get involved.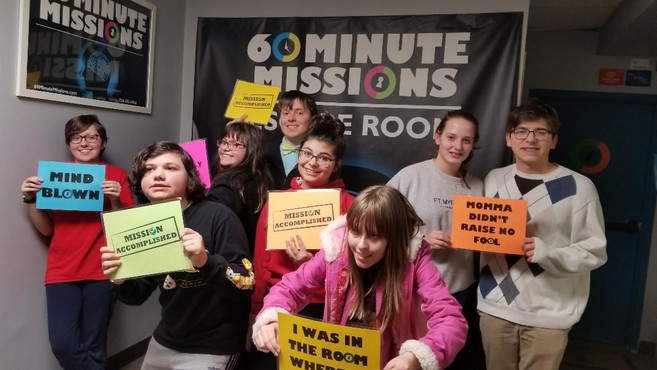 A Photo from Our Ohiopyle outing this spring 2019:
I
t was a great time. Please check the announcements or this webpage for upcoming SPY outings and activities.
Last years Vacation Bible School was a huge Success

Don't miss this years vacation bible school and
Watch our website for updates and bulletins announcements for upcoming SPY programs.
A brief discussion with our youth about words.
The wrong words have started wars, broken hearts and hurt families.
However, great words have inspired nations, motivated brilliant inventions, encouraged the wary, and strengthened hearts.
Have you ever taken a moment to consider how the music that you are listening to may be affecting what you do. The lyrics of your music are words that are being repeated over and over again in your head. If these words are positive they may inspire you to do great things but negative words may have a negative impact on your outlook.
This does not mean that you need to listen to classical or church choir music. Just consider the kind of person that you would like to be. Do your music lyrics fill your head with words that will encourage you to become that great person or do they impede you from reaching your greatness.
Artist like Zach Williams and Mercy Me have won Rock/Contemporary music awards and offer uplifting music with a great message.